Oddset is a state-owned betting service in Sweden. The betting market is extremely competitive and in contrast ro its competitors, Oddset is not allowed to (nor want to) offer bonuses, free spins or similar. Being state-owned, the communication is highly regulated. Instead, this year's challenge was to engage and make people appreciate Oddset. With love and a twinkle in the eye we wanted to capture the feeling of playing at Oddset – communication in bright contrast to competitors.

The purpose of the campaign was to make "brand-appreciative" communication, increase the preference of Oddset as a brand, and create engagement in both own and earned media (goal: 2,5 million in earned media reach)

Swedish sports commentators are always neutral and therefore not as engaged as the fans. In short, they are pretty boring. We wanted to change that and give fans a new experience when watching football on TV.
Introducing: Biased sports commentators.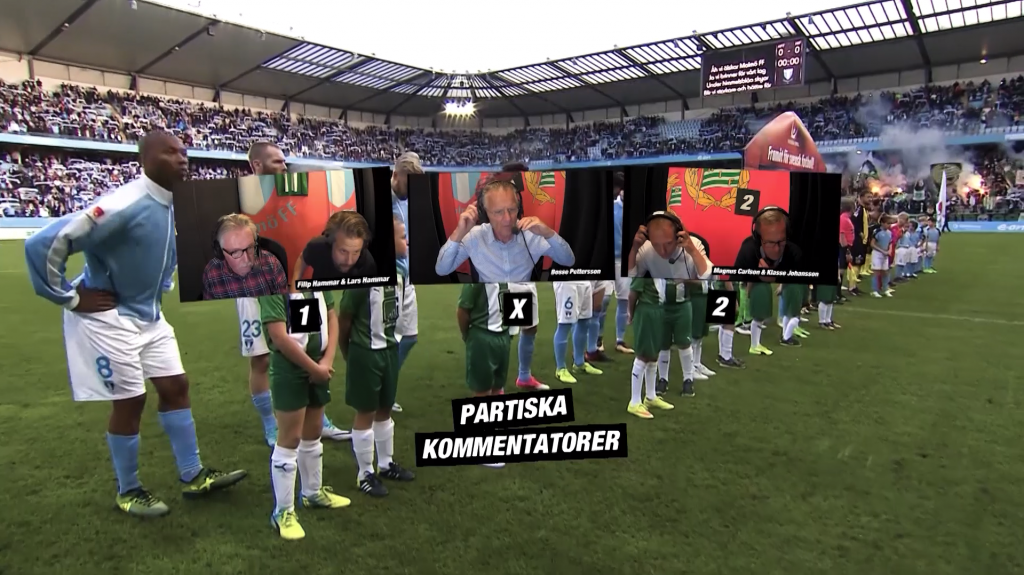 Being the main sponsor of the Swedish football league, we let three famous influencers and celebrities, who each also is a huge fan of their football club, act as regular commentators – but with passion and heart for the team which they commented for.
· Over 400% increase in social media engagement.
· An earned media reach of over 6 million (Sweden's population = 10 million).
· Several other football-clubs asked if they could take part next time!
· Some of the biggest news outlets in Sweden and local newspapers covered the whole campaign from the first pressrelease until weeks after the campaign was over.